What We Do
Venture Capital M&A and Corporate Development mini-IPO Financing Partner Services AaaS Advisors as a Service New Venture Strategy CXO on demand Professional Services Entrepreneurship & Corporate Education Research Labs Machine Learning MLaaS Machine Learning as a Service AI xAI Explainable AI
Towards Zero Clicks: Machine Learning & AI for the Enterprise
Towards Zero Clicks: Machine Learning & AI for the Enterprise
Gartner reports Machine Learning today at the peak of inflated expectations in the technology hype cycle, hinting massive adoption in 2-3 years from now.
Tools and MLaaS platforms (Machine Learning as a Service) have reached enterprise grade maturity enabling corporations to embrace ML at scale.
It's precisely at the peak of the hype when corporations need to evaluate emerging technologies and commit to the necessary transformations to lead, create and/or maintain a competitive edge.
43% of the ML/AI startups acquired by corporations last year were VC backed.
The AI/ML Venture Capital - VC industry, engine and source of funding for emerging industries, serves as a perfect proxy to understand these trends, de-noise the hype and spot the right timing for practical decision making.
In this educational 3x workshop (condensed in 1,5 days, remote - online or on premise) we will navigate through the enterprise AI/ML startup landscape as well as the M&A and VC activity to end up with practical recommendations and a frictionless 3x steps process for corporations to adopt Machine Learning at scale, as an enabler for future AI applications.
The 3x workshop, a 3 steps on-boarding process to apply machine learning in the enterprise, provides C-level & business execs with a top-level understanding of the business applications & implications down to practical advice to get your company hands on with applied machine learning & AI.
Content Topics in summary:
1. The state of the Machine Learning & Artificial Intelligence from a Venture Capital perspective: understanding the maturity of this industry and its trends.
2. The Enterprise M&A landscape by the numbers: a proxy to benchmark where corporations are in their ML & AI journey.
3. The Enterprise AI & ML Startup scene: focusing on Enterprise tools and MLaaS in particular, driving practical & applied ML adoption at scale for any business.
4. Self-service Machine Learning: Walk through examples of some marketing & sales hacks: landing what applied ML in business means concretely in the real world. Review of MLaaS tools & Enterprise ML platforms.
5. What's next? A few simple steps to get your company and your team started with Machine Learning today (and AI in future), in hours (not months and this is a promise). Weaponizing your business with applied Machine Learning.
Objectives - 3x workshop:
1x - Get an overview of the actual state of machine learning & AI for the enterprise and its trends.
2x - Gain insights by analyzing VC and M&A activity in the space: de-noising the hype, benchmarking in your industry.
3x - Understand why Machine Learning & AI is happening now and what to do about it: takeouts from practical ML examples and learnings on how to get on board with Machine Learning for your business and key executives.
Starting up with Machine Learning & AI in the Enterprise
3x simple steps:
WHY
1. Why corporate disruption happens? Where startups & unicorns come from?
Setting the stage to understand where and why corporates miss unicorn opportunities
The corporate problem of innovating in 2-5 yrs time horizons.
Overview of how to establish and internal corporate venture capital model, pros & cons.

Geoff Moore's on corp innovation methodology & Corporate Venture Capital process: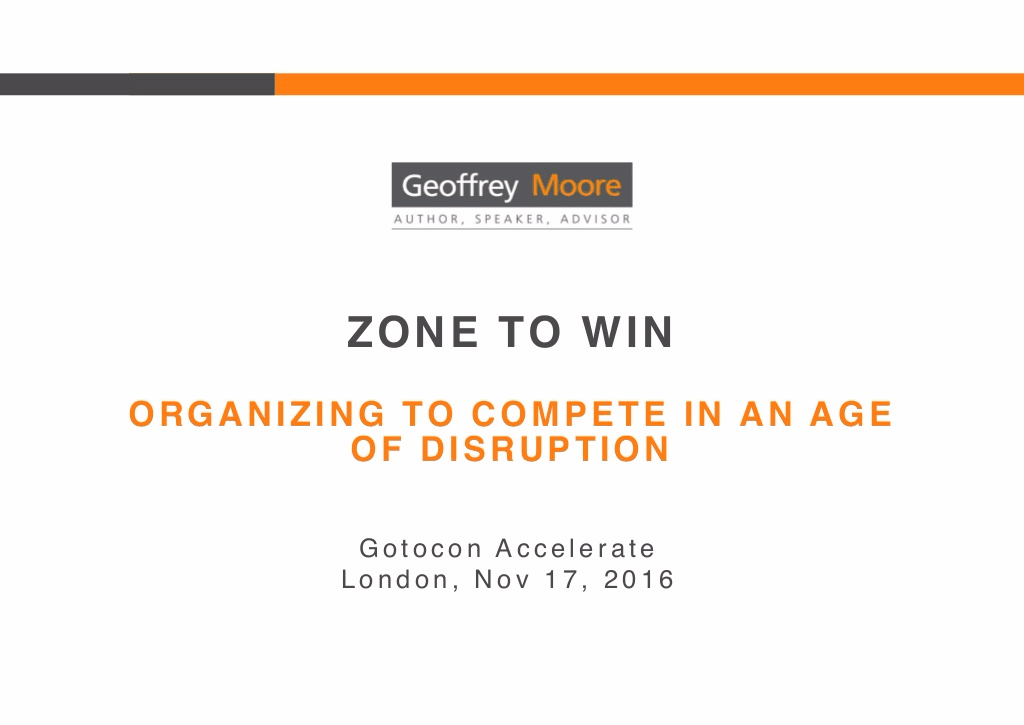 WHY MACHINE LEARNING & AI
2. Why ML & AI now?
A 'follow the money' overview of the ML and AI industry, including key startups mapping, trends and references/numbers of the adoption by key players (Facebook's FBlearner ML platform).
Stage of the industry, key drivers & trends. Gartner's tech cycle positioning.
Enterprise VC & M&A activity
Current ML adoption in the enterprise.
HOW
3. What are next practical steps to get my company on-boarding with ML/AI?
 
Review of Enterprise Platforms &Tools: self-service Machine Learning vs outsourcing complexity.
A quick DIY machine learning hack of a sales process leveraging MLaaS (API service) in 10 min for executive / business users.
[Insert your own ML case here - ad-hoc demo/workshop]
Moving Machine Learning to implementation
4. Practical Implementation of Machine Learning & AI in the Company
After going through this 3 steps education workshop, below are the tentative outcomes for practical implementation in the enterprise, depending on data & machine learning maturity as well as go to market timing:
A - Training & Capabilities enablement - Getting key people in the know
Key personnel education, skill enablement - train the trainers, no coding, just machine learning applied.
Enabling selected Data Citizens (i.e business executives with data skills capable of running predictive and machine learning processes without the need of coding)
B - early adoption - trials & rapid prototyping: Do more with less, ROI kicks in
Defining and scaling predictive use cases, multi-department, different corporate functions. Learn by heuristics, rapid prototyping, trial & error.
Self-service approach with external support.
C - Scaling & adoption, company wide - Apply 80/20 rule
Platform approach (typically on-premise: similar to Facebook - FBlearner, Uber - Michelangelo). Scale ML models & predictions, manage & track centrally, serve all internal customers.
D - Ecosystem adoption - Master plan - the ultimate competitive differentiator: 'Winner takes all'
Enabling predictive & machine learning based business models for key partners & customers of the company, leveraging proprietary data throughout the ecosystem.
Platform approach using an API model for data & ML services access.
E - Corporate Venture Capital - The 'shortcut' to market
If reviewing the internal corporate strategy renders machine learning & AI as the key priority for products/services and go to market in the short term a venturing track comprising Corp VC (investment and/or acquihire), straight M&A or other strategic partnerships & JV models will be the solution.
Leveraging our presence in Silicon Valley, our team can support all these initiatives at different stages.
Contact: